Muridale Granite 50Y X
Saskvalley Roughneck 154R X
Sire: Saskvalley Tradition 106T X
Saskvalley Myrtle 83N X
Saskvalley Bonanza 219M X
Dam: Muridale Prairie 47T
Muridale Prairie 16P
Glenford Just Right 4W X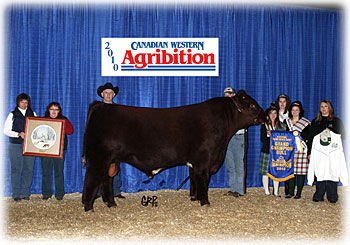 Sprys True Blue Y033 X
Sire: Glenford Real World 51S X
Glenford Promise 46L X
Frimley Captain Jim 38J X
Dam: Glenford Patsy 25M X
Glenford Patsy 33K X
Hill Haven Fricton 22Z X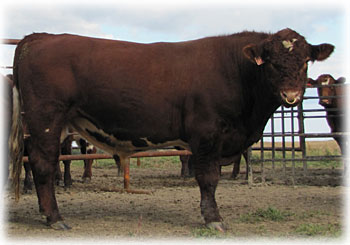 Jake's Proud Jazz 266L X
Sire: Ash Valley Jazz 9604 X
Ash Valley Rose 7104 X
Hill Haven Stout 11T X
Dam: Hill Haven Lucky Hannah 13W X
KRCC Lucky Charm 404N X
JT Thunder 72T X
Kenbar Perfect Bet 20W X
Sire: Goldwin Burwash 4H X
Goldwin Red Wonder 15F X
Flying C Foundation 7F X
Dam: JT Muffin 77K X
Poplar Park Muffin 26G X
We are looking forward to the calves we will get from our new herd sire JT Thunder 72T that we purchased at the 2007 Agribition from Poplar Park Shorthorns.
Star P Ultra Gold 6U X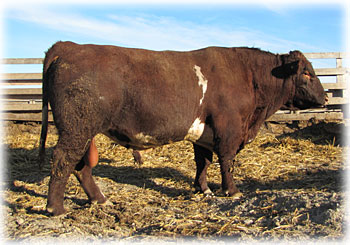 DFS Gold 002 X
Sire: K-Kim Gold Count 22P X
GFS Countess 9302 X
Glenford Gus 40N X
Dam: Star P Jorja 32R X
Glenford Pat 25N X
Eionmor Ideal 69R X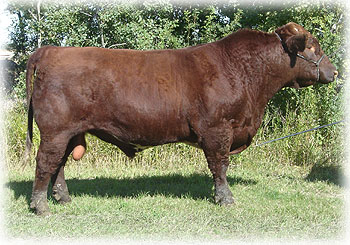 Eionmor Ideal 69F X
Sire: Teaghlach Ideal 202L X
Teaghlach Lily 1F X
Eionmor Clansman 4J X
Dam: Downsview Gayle 22M X
Shamrock Gayle 18G X
Our senior herd sire, Eionmor Ideal 69R, has truly lived up to his name. With every crop of calves out of this bull we are seeing some real top notch calves with plenty of muscle and growth. We showed this bull with his progeny at side for Fall Fair in Saskatoon, and Agribition in Regina in 2007. We received many comments about how nice it was to see the quality this bull carries passed down to his off spring, it's not too often you see a string of animals with their sire there as well.
Glenford Real World 51S X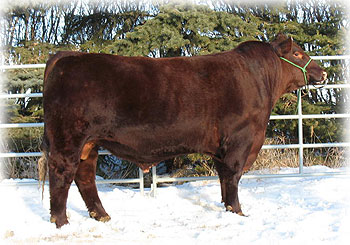 JR Legend 78H X
Sire: Sprys True Blue Y033 X
Moombi Kate S50 X
Glenford Chief 22F X
Dam: Glenford Promise 46L X
Glenford Promise 18C X
This awesome red bull from the Bender Shorthorns herd has left some calves that hit the mark. He is an outcross bull out of Sprys True Blue from the land down under that has had the performance stamp on him from the get go. Glenn and Ryan were reluctant to let this rascal go but after a spring and summer in our herd he was sold into a commercial herd for $4600. This made Real World the top selling bull at the East Central Bull Power 2008 sale in Yorkton. Real World 51S will continue to put his excellent muscling and spring of rib into calves for that market the same as he did in our herd.
Our herd is built on genetics from 8 different top herds, including pedigrees from MSF Equity, JT Titan, Frimley Captain Jim, MF Traveler 501, Eionmor Mr. Gus 80C, Poplar Park Chieftan 6C, Glenford Gus 4H, and Butterfield Able Seaman.
---